ENTERPRISE-A Marianna, Florida, woman is in Coffee County jail charged with torture/willful abuse of a child under 18 after being arrested by Enterprise Police Monday evening.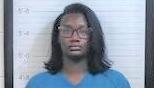 Quavana Latrill Britt, 22, is charged in connection with a call reporting child neglect from the Executive Inn on Boll Weevil Circle, according to EPD Public Information Officer Capt. Billy Haglund.
Haglund said that at 1:30 p.m. Monday, the Enterprise Police Department responded to call from motel staff who alerted police after they observed a young child wandering outside of a room. Responding officers discovered the young child, age four, had a two-year-old sibling in a room, Haglund said.
The two-year-old was left in a bed that was soiled in urine and feces, Haglund said. Officers determined the children had been left alone in the room approximately five hours.
Britt was transported to the Coffee County Jail after her arrest.